Meet the Innisfil Chiropractic Team
Amelia Evans, Registered Holistic Nutritionist & Chiropractic Assistant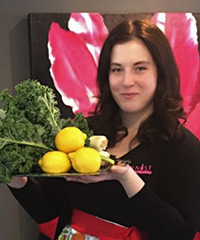 Amelia began working at Innisfil Chiropractic in 2017. Amelia and her family have been patients since she was nine years old, and Dr. Lee has seen her through everything from ballet recitals to university exams. Amelia studied Health and Society at York University, and she has since become our in-house Registered Holistic Nutritionist, and a Postpartum Doula.
Although Amelia and her parents see Dr. Lee for maintenance and general wellness, she has two younger brothers with special needs and has seen the incredible impact of regular adjustments on their lives. Truly, she credits being cared for by Dr. Lee as one of the major influences in her own life, and she loves being on the team at Innisfil Chiropractic.

Jenn Rivard, Chiropractic Assistant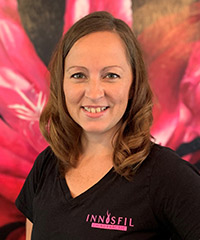 Jenn has been with Innisfil Chiropractic since May 2016. She found chiropractic through a close friend, since then she has regular adjustments and no longer suffers from migraines.
Before Jenn joined the Innisfil Chiropractic team, she traveled the world on cruise ships working as a photographer.
Jenn and her husband welcomed their beautiful daughter Lilly in January 2018. Lilly was adjusted by Dr. Lee for the first time when she was just seven days old.
Jenn still enjoys photography in her spare time, as well as snowboarding, stand up paddling, knitting and crochet.

Starr Gerrick, Chiropractic Assistant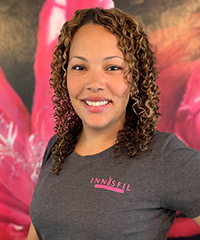 Starr grew up in Burks Falls and moved to Innisfil in 2014. Starr has worked in the customer service industry since age 15. She joined our team in 2015 and has loved it ever since. Prior to completing her Pre-Health Sciences and becoming a Chiropractic Assistant, Starr worked as a hairstylist for 6 years. Starr and her husband are proud parents of a blended family with 5 children. Outside of the office, you can always find the 7 of them either at the rink or in the dance studio. Whether it is for dance, hockey or lacrosse, this family is always on the go.

Jocelyn Bertram, Chiropractic Assistant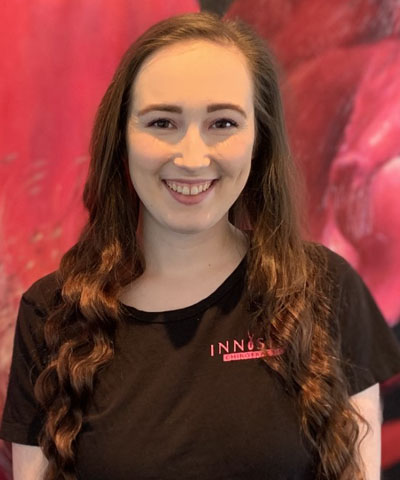 Jocelyn is thrilled to be joining the Innisfil Chiropractic team covering Jenn's maternity leave!
As a musical theatre performer with over ten years of training and experience, she is very familiar with chiropractic care and the positive effects it can have on the body.
An Innisfil local, she has been a patient of Dr. Lee's in the past which has helped her maintain the physical demands of her lifestyle. She is so excited to have the opportunity to see Dr. Lee's work from a new perspective! In her spare time, Jocelyn can be found running a theatre blog and podcast, or dancing it out!

Abigail Godfrey, Chiropractic Assistant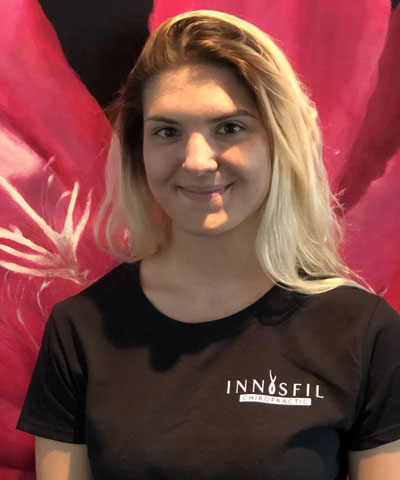 Abigail Joined the Innisfil Chiropractic team in the spring 2021, and is very excited to be part of the healthcare community in her hometown. Since a young age, Abigail has been fascinated with the sciences and aspired to be involved in healthcare. After graduating from Trent University with a BSC in honours in Biology in 2020, Abigail is now studying acupuncture at Georgian College to continue her involvement and participation in health sciences.
Outside of the clinic, Abigail enjoys being outdoors for hiking, horseback riding and kayaking.

Request an Appointment
Learn more about how chiropractic care can help you live a better, happier and healthier life naturally by contacting our practice today. Book an appointment today!
---
Innisfil Chiropractic | (705) 436-3300