Pregnancy & Pediatric Chiropractic Care in Innisfil
At Innisfil Chiropractic, Dr. Lee believes that everyone can benefit from chiropractic care—even the littlest members of your family—including when they're still inside of you! Dr. Lee is certified in the Webster Technique to allow for the safe and effective care of pregnant women and is certified through the ICPA. Dr. Lee has adjusted babies who are just hours old to children in elementary school and beyond—she loves seeing families grow up in her practice.
Why Choose Chiropractic Care for Your Children?
As the twig bends, so the tree grows."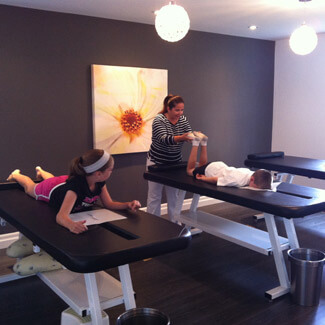 When it comes to your children, we're certain there's nothing you care about more than their health, which is why it's an excellent idea to consider chiropractic care from the start. Instead of being reactive, chiropractic care allows us to instill a proper functioning nervous system in your child from day one, allowing their body to work exactly as it was designed to, free of interference.
When their child is under care with us, many of our moms and dads have noticed improvements in colic, bathroom problems, digestion, sleep, and so much more.
Dr. Lee uses an extremely gentle technique for children called the Activator method which involves the use of a handheld instrument. There is no pain or "cracking" sound during an adjustment. Most kids don't even know they're being adjusted! As always, we're happy to explain everything to you before performing a treatment on your child.
Why Choose Chiropractic Care During Pregnancy?
Chiropractic care during pregnancy can help incredibly—from balancing your pelvis to managing pain and even ensuring an easier, smoother birthing process. Dr. Lee is certified in the Webster technique, meaning she has years of experience in comfortably adjusting moms-to-be using specialized pregnancy pillows and tables.
Dr. Lee has also employed chiropractic care to help women experiencing fertility troubles—one of the best feelings for her is hearing that a woman struggling with fertility problems became pregnant after care.
Learn About the Benefits for Your Family
We'd love to speak with you about how chiropractic care can help you and your children. To get started, contact us today to schedule your first visit.
CONTACT US »
We can't wait to meet you!

Innisfil Chiropractic | (705) 436-3300